Avoiding winter ailments is possible when you act fast and follow the right advice.

There are many immune boosters on the market, all designed to minimise your chances of getting sick as the weather cools down.

If you do get sick, we want to make sure you feel better as soon as possible, so speak to one of our friendly team to get the best advice and product combination for your symptoms.
Vitamin C is a well-known supplement that can boost the immune system.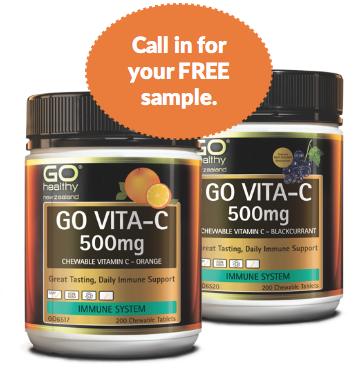 Call in for your FREE sample of GO Healthy Chewable Vitamin C tablets.
Adults and children over 5 years old can chew 1 or two tablets to boost their immune system, and this can be repeated during the day to fight an infection.
Available in great tasting Orange or Blackcurrant flavours.
This low acid formula gives it the added benefit of being teeth friendly.